Bits & Pieces of Inspiration

"In order to fully live our spiritual path, we cannot leave out any part of ourselves or our experience; every single part of who we are and what we do has to be included. It is in recognizing the mystic we always were rather than in mimicking the pious practices of our faith that we discover the meaning beneath the meaning that has always been calling us." What causes you to be aware of the meaning beneath the meaning? Begin to incorporate your own innate spiritual responses into your daily practice.
From yesterday's meditation in
my favorite
quiet time book.
This has been a bizarre winter break. I'm ready to get back into a routine of some sort, but honestly not quite ready to go back.... I've enjoyed so much this time with Sean and Olive, lazy days lounging around, scouring antique shops and little odd stores here and there. Long runs in the cold, hours catching up on Big Love, time spent talking with friends, reading and painting away my heartache~ it's all been quite simple and needed. This morning I was very tempted to crawl into a cubby much like this little girl. It was all I could do to drag myself out of bed at 5:30 this morning and go running! Once I was moving, things were all good, but it was a rough wake up call!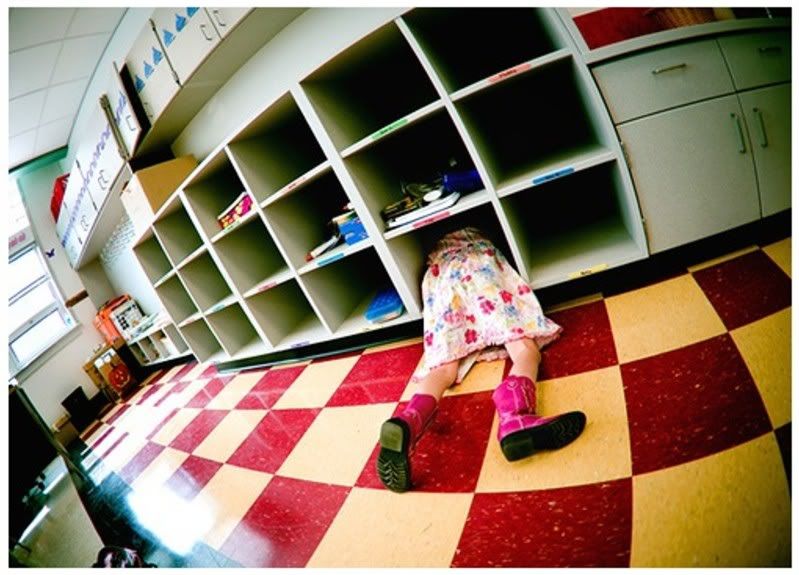 I've spent a great deal of time over this break thinking about the past, present and future, looking for meaning beneath meaning. What do they hold for me? Where have they brought me and what have I accomplished?
Sean and I celebrate our 8th anniversary tomorrow. He is truly my soul mate, he knows me through and through and we have grown so much with each other over these years. At the same time, I learn more about him each day, he still makes me laugh and I look so desperately forward to seeing where we will challenge each other to grow in the years to come. I know that this year will bring all things new and yet bring me that much closer to the man I am already so familiar with.
I have reached a point of frustration at work. I'm almost ready for something new... what that new challenge is, I don't know, but I see more and more that I will not be able to be a classroom teacher for 60 years like some people do. I have always known that I would not be a career classroom teacher. I work steadily to challenge myself, changing grade levels and teams, working on new certifications and programs. I don't ever want to be stagnate~ but I am seeing too that while this work ethic is absolutely the best thing for my students, it may not be the best thing for my health or family. I extend myself to the absolute fullest, taking on tasks and challenges to the point of exhaustion and frustration sometimes in my home. I've worked very hard this year to say no to things that would add frustration and bitterness to my teaching heart. But I see myself going in a new direction in the next several years. I'm trying hard to focus my vision and see what will be best for myself and my family.... I need to see exactly to what next branch I will fly.
I am coming into this new year with open eyes, open mind and open heart. I wish the same for you. -e